Current GPC Residents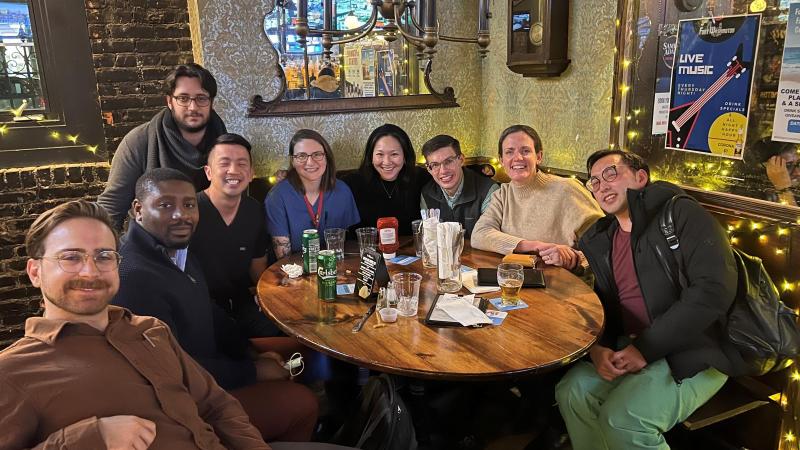 PGY1
Eric Carlson, MD

Erik Carlson grew up mainly in North Carolina but completed high school in the Chicago suburbs. He studied at the University of Notre Dame, where he attended a semester-long study-abroad program in Puebla, México. After graduation, he completed a yearlong service fellowship at a free primary-care clinic for the uninsured in South Bend, IN. While pursuing his MD/MPH dual degree at Loyola University Chicago Stritch School of Medicine, he worked with the department of interpreter services to develop an interpreter training program for Spanish-speaking medical students. Entering residency, his interests include serving Spanish-speaking patient populations, developing more equitable health care systems, and the intersection of climate change and health. He also enjoys backpacking, playing soccer, and participating in a book club with college friends.

Roger Lin, MD

Roger was born in Maryland but spent many years living in Taipei and Shanghai before moving back for high school, undergraduate studies (Nutritional Science), and medical school at the University of Maryland. He spent a gap year before medical school as a mental health case worker in Washington DC, helping recently discharged psychiatric patients re-establish themselves and thrive in the community. He especially loves helping patients work around their cultural and structural barriers to care. He is passionate about mentorship and spent much of medical school tutoring, organizing workshops on soft skills, and leading the Wellness Committee. Outside of medicine, he is an avid salsa dancer and tennis player.

Erin Rieger, MD

Erin Rieger was raised in upstate NY and moved to Houston, TX to study chemistry and sociology at Rice University. After graduation, Erin spent 10 months in Oslo, Norway performing qualitative interview-based research with Turkish migrants. During a second gap year, she worked at Weill Cornell as a research assistant in transplantation-oncology infectious diseases. Erin then attended the University of Chicago Pritzker School of Medicine. During medical school she continued engaging with qualitative research including a study of patient perspectives on involvement of their primary care physician during hospitalization. Entering residency, Erin's interests include general medicine, gastroenterology/hepatology, qualitative methods, and health communication. Outside of medicine she enjoys biking, podcasts, and cooking.

Suraj Shah, MD

Suraj was born and raised in North Jersey and earned his undergraduate and medical degrees from Tufts University. Passionate about addressing health disparities, he was a volunteer and Director of the General Project at the Sharewood Project - a student-run free healthcare and education project that predominantly serves immigrant communities in the Greater Boston Area with primary medical services and health insurance onboarding. He is also deeply interested in peer mentorship and medical education, having served as a mentor and small group facilitator for pre-clinical and clinical year medical students. His clinical interests include academic general medicine, diagnostic framework creation, and critical care. In his free time, he enjoys playing tennis, dancing bhangra, and exploring nature and restaurants.
PGY2
Jacob Lui, MD

Jacob Lui was born and raised in the San Francisco Bay Area and completed his undergraduate degree at UCLA. He was involved in care coordination for patients with HIV/AIDS in downtown LA and spent a year living with and learning from the community of Watts in South LA before moving to Rochester, MN for medical school at the Mayo Clinic. What makes medicine meaningful to him is deep conversations with patients and learning clinical care. Outside of medicine, he enjoys time in the mountains, phone calls with family & friends, anything with history or geopolitics, and slow walks around the city.

Matthew Miller, MD

Matt completed his undergrad degree in molecular biology at Messiah College in Harrisburg, Pennsylvania where he was an NCAA track and field athlete. After college Matt spent a gap year in Guayaquil, Ecuador where he worked as an English teacher. As a medical student at University of Maryland, Matt was involved in his community through various organizations including the Jacques initiative and Esperanza Center Catholic Charities of Baltimore through which he organized free health screenings and educational events. As a GPC resident, Matt is passionate about working with the diverse patient population of Washington Heights. His clinical interests include primary care and global health. Outside of medicine Matt enjoys spending time outdoors and exploring NYC.

Leah Weston, MD
PGY3
Matthew Carey, MD, MBA

Matt Carey was born in Cleveland, OH but grew up further south in San Antonio, TX. He received a BA in Economics as well as an MBA from Rice University in Houston, TX. He received his MD from the University of Michigan Medical School. Prior to medical school, Matt was a Business Analyst at the management consulting firm McKinsey & Company, where he worked on health care projects for hospital systems, academic medical centers, and insurance companies across the United States and abroad. While in medical school, Matt was the finance coordinator for the University of Michigan Student-Run Free Clinic and engaged in operational improvement and strategic planning projects with local federally qualified health centers. He is interested general internal medicine, quality improvement, and reducing low-value care. Outside the hospital, Matt enjoys running, reading, history, and trying new coffee shops.

Wesley Earl, MD

Wesley "Josh" Earl completed his undergraduate degree at Florida State University. In Tallahassee, Josh fostered his passions for community and science through his studies. The Service Scholarship Program, a curriculum based around leadership and community engagement, provided a basis to understand effective community service. He decided to commit himself to the intersection of science and community, medical science. Wesley chose to attend the FSU College of Medicine due to the institution's focus on providing patient centered medicine to rural and underserved communities. During his time at FSU College of Medicine, Josh devoted his time to understanding the needs of geriatric patients, teaching as a lead TA, and participating in the FSUCares Panama Clinic. His clinical interests include clinical education, diagnostic reasoning, hematology/oncology, and gerontology. Outside of the clinic, Josh loves listening to music, going to shows, writing poetry, and discovering new art.

Kirsten Homma, MD

Helena Kennedy, MD

Helena was born and raised in Poland before moving to Rockaway Park, Queens in 2004. She attended the Sophie Davis School of Biomedical Education at the City College of New York, a 7 year B.S.-MD program, and completed her clinical training at the NYU School of Medicine. Throughout medical school, she fostered her interest in understanding health care disparities and worked with underserved immigrant populations through the NYU Free Clinic. She is also interested in medical education and dedicated her time to mentoring and teaching while at Sophie Davis and NYU. Due to the COVID-19 pandemic, she graduated medical school early and served as a COVID-19 Intern at Bellevue Hospital. Outside of medicine, Helena enjoys hiking, playing board games with friends and family, and traveling.

Oluwafeyijimi Salako, MD

I was originally born in England, but have spent most of my life growing up in Bergenfield, NJ. I went to undergraduate school at The College of New Jersey where I studied Biology and completed my medical degree at Rutgers New Jersey Medical School. I have always been interested in urban health and in medical school participated in a student-run free clinic and took part in research exploring mental health in Newark. I currently have an interest in cardiovascular health in the urban community and preventative medicine. During my free time I like to play basketball, bike, attend church, and spend time with family and friends.