Associates in Internal Medicine/Vanderbilt Practice
The Associates in Internal Medicine (AIM) practice is located in the historic Vanderbilt Clinic at Columbia University Irving Medical Center, a pioneering site for resident training in ambulatory internal medicine at a large, urban medical center, mentioned in the Flexner Report of 1910. The modern day AIM practice provides high quality medical care to the surrounding community and is a Patient Centered Medical Home, with multiple ancillary services supporting patient care. Patients are referred from the hospital and ER, and residents see patients under the guidance of expert clinician faculty from the Division of General Medicine. AIM is a vibrant practice where residents and faculty care for patients side by side, actively improving the health of the community and preparing physicians to practice evidence-based, comprehensive internal medicine.
To schedule an appointment:
New patients, please call 866-463-2778
Current patients, please call 866-463-2778 or log-in online via NYP/Columbia Connect.
Para programar una cita:
Para nuevos pacientes, por favor llamar al 866-463-2778
Para pacientes actuales, por favor llamar al 866-463-2778 o registrarse y conectarse en línea  vía NYP/Columbia Connect.
For a full description of academic activities in AIM, click here.
Associates in Internal Medicine Practice (AIM West)
622 West 168th Street, 2nd FL
United States
Open location in Google Maps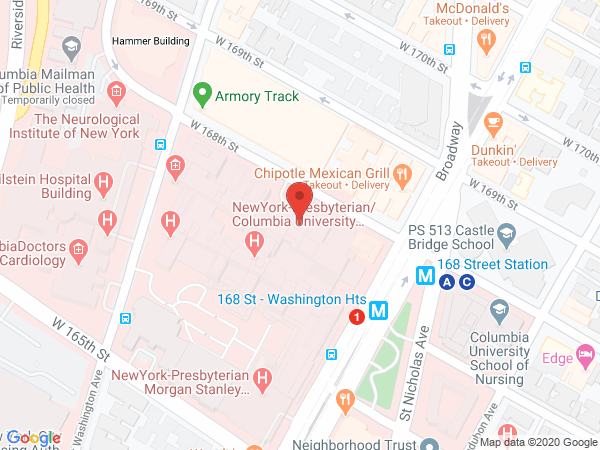 Practice Specialties
Internal Medicine
Patient Population
Adults
Practice Hours
Monday, Wednesday, Friday | 8:30 a.m. to 5 p.m.
Tuesday, Thursday | 8:30 a.m. to 7 p.m.
Walk-in Clinic for established patients only | Monday to Friday, 8:30 a.m. to 3:30 p.m. Walk-in clinic may stop accepting patients early if volume is unusually large.