Current GPC Residents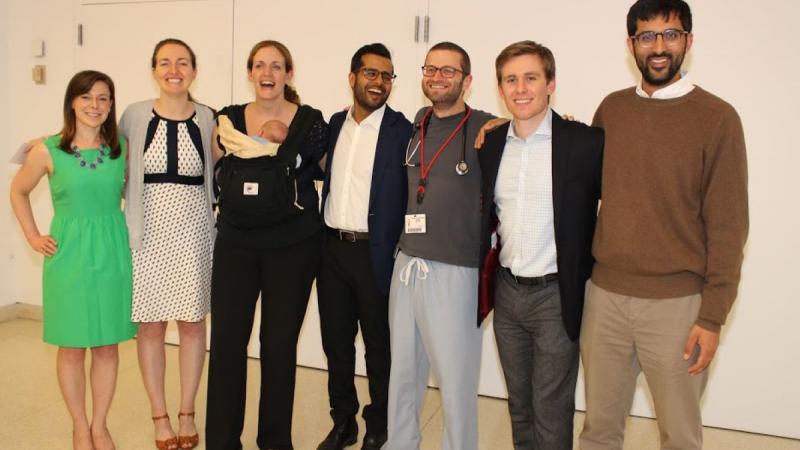 PGY1
Jacob Lui, MD

Jacob Lui was born and raised in the San Francisco Bay Area and completed his undergraduate degree at UCLA. He was involved in care coordination for patients with HIV/AIDS in downtown LA and spent a year living with and learning from the community of Watts in South LA before moving to Rochester, MN for medical school at the Mayo Clinic. What makes medicine meaningful to him is deep conversations with patients and learning clinical care. Outside of medicine, he enjoys time in the mountains, phone calls with family & friends, anything with history or geopolitics, and slow walks around the city.

Matthew Miller, MD

Leah Weston, MD
PGY2
Matthew Carey, MD, MBA

Matt Carey was born in Cleveland, OH but grew up further south in San Antonio, TX. He received a BA in Economics as well as an MBA from Rice University in Houston, TX. He received his MD from the University of Michigan Medical School. Prior to medical school, Matt was a Business Analyst at the management consulting firm McKinsey & Company, where he worked on health care projects for hospital systems, academic medical centers, and insurance companies across the United States and abroad. While in medical school, Matt was the finance coordinator for the University of Michigan Student-Run Free Clinic and engaged in operational improvement and strategic planning projects with local federally qualified health centers. He is interested general internal medicine, quality improvement, and reducing low-value care. Outside the hospital, Matt enjoys running, reading, history, and trying new coffee shops.

Wesley Earl, MD

Wesley "Josh" Earl completed his undergraduate degree at Florida State University. In Tallahassee, Josh fostered his passions for community and science through his studies. The Service Scholarship Program, a curriculum based around leadership and community engagement, provided a basis to understand effective community service. He decided to commit himself to the intersection of science and community, medical science. Wesley chose to attend the FSU College of Medicine due to the institution's focus on providing patient centered medicine to rural and underserved communities. During his time at FSU College of Medicine, Josh devoted his time to understanding the needs of geriatric patients, teaching as a lead TA, and participating in the FSUCares Panama Clinic. His clinical interests include clinical education, diagnostic reasoning, hematology/oncology, and gerontology. Outside of the clinic, Josh loves listening to music, going to shows, writing poetry, and discovering new art.

Kirsten Homma, MD

Helena Kennedy, MD

Helena was born and raised in Poland before moving to Rockaway Park, Queens in 2004. She attended the Sophie Davis School of Biomedical Education at the City College of New York, a 7 year B.S.-MD program, and completed her clinical training at the NYU School of Medicine. Throughout medical school, she fostered her interest in understanding health care disparities and worked with underserved immigrant populations through the NYU Free Clinic. She is also interested in medical education and dedicated her time to mentoring and teaching while at Sophie Davis and NYU. Due to the COVID-19 pandemic, she graduated medical school early and served as a COVID-19 Intern at Bellevue Hospital. Outside of medicine, Helena enjoys hiking, playing board games with friends and family, and traveling.

Oluwafeyijimi Salako, MD

I was originally born in England, but have spent most of my life growing up in Bergenfield, NJ. I went to undergraduate school at The College of New Jersey where I studied Biology and completed my medical degree at Rutgers New Jersey Medical School. I have always been interested in urban health and in medical school participated in a student-run free clinic and took part in research exploring mental health in Newark. I currently have an interest in cardiovascular health in the urban community and preventative medicine. During my free time I like to play basketball, bike, attend church, and spend time with family and friends.
PGY3
Michele Fischer, MD

Michele Fischer grew up at the Jersey Shore, dedicating much of her childhood to gymnastics, golf, and the beach. She earned her undergraduate degree in Biology and Chemistry from Loyola, Maryland where she was an NCAA student athlete in cheerleading. She then attended Georgetown University in Washington, D.C. for medical school. She has had strong interests in working with people with intellectual and developmental disabilities, having worked with and led various groups up through college. In medical school she continued to pursue such interests while working with a self advocacy group in DC with aims to improve access to respectful medical care to those in the community living with special needs. She also served as a member of MedStar Georgetown's Institutional Review Board. Additionally, she has interests in primary care and global health, having spent a month working in a primary care clinic in Quito, Ecuador where she learned about the cultural interplay of traditional herbal medicine and western medicine. Her GIM interests are hospital medicine and quality improvement. Outside the hospital she enjoys running, making homemade pasta, and traveling.

Danielle Rome, MD

Danielle Rome grew up in Mamaroneck, NY and attended UPenn where she studied Biological Basis of Behavior, an interdisciplinary major that combines biology, psychology and neuroscience. She attended the Columbia University Vagelos College of Physicians and Surgeons, where she became interested in general internal medicine, addiction medicine and harm reduction in particular; volunteering at a student-run clinic that provides primary care services, safer sex and safer drug use counseling; and working as a class representative available for non-judgmental, confidential peer support for students struggling with substance use and other addictive behaviors. She is also interested in web-based medical education and palliative care/hospice medicine, and was able to combine these by developing and piloting a series of e-learning modules for clinical students for her fourth year scholarly project. Outside of medicine, she loves running, yoga and exploring NYC.

Lisle Winston, MD

Lisle Winston grew up in Westchester, New York. She studied Molecular Biology and Biochemistry at Wesleyan University, after which she worked at Jacobi Medical Center in the Bronx conducting HIV and cervical cancer research. Lisle received her medical degree from Weill Cornell Medical College. During medical school, she worked as the Clinical Director of the Weill Cornell Community Clinic, which provides primary medical, gynecological, and mental health care to patients without health insurance. Her medical school research focused on the roles that race and obesity play in inflammation-related breast cancer risk. Lisle's clinical interests include social determinants of health, particularly surrounding issues in clinical oncology and end-of-life care.