Primary Care Rotation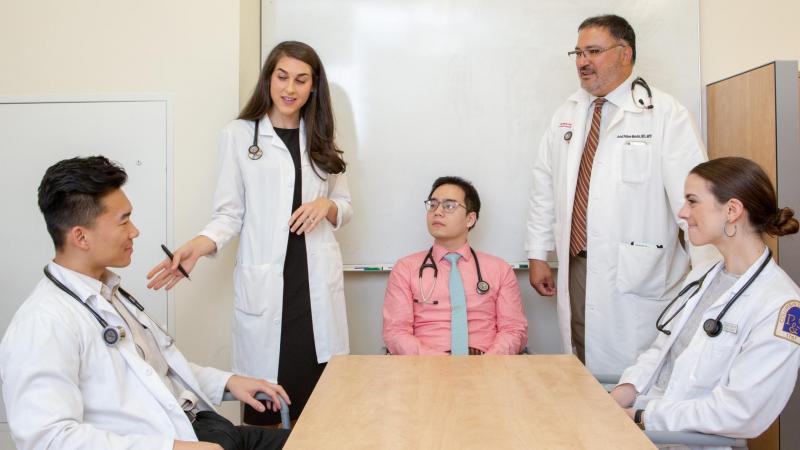 In addition to resident education, faculty members at the Associates in Internal Medicine (AIM) practice are also very invested in undergraduate medical education for the students at Columbia University's Vagelos College of Physicians and Surgeons. The AIM practice serves as a training site for the Primary Care clerkship, one of several core rotations for students in their Major Clinical Year. The complex patient population at AIM combined with the team-based approach to care make this an ideal learning environment. During their five-week clerkship, students spend time immersed in clinical practice and didactics, with activities designed to enhance their exposure to the patient-centered and evidence-based care provided at AIM.
Clinical Experience
Patient encounters are essential to the development of effective clinical practice and constitute the majority of students' time during the clerkship. Students are introduced to the role and importance of primary care in the current healthcare landscape and engage in the compassionate, patient-centered care at AIM. They hone their history-taking and physical examination skills through independent patient encounters with dedicated teaching time during or immediately after each interaction. Empathetic listening and relationship-building are modeled by the attending physicians and reinforced during individual patient encounters. Special attention is paid to the ethics of the patient-doctor relationship and to the crucial need for continuity of care. Students learn to navigate language boundaries, bridge ethnic and demographic differences, and to appreciate the diversity of the Washington Heights community.
Education and Didactics
Evidence and current research inform clinical practice at AIM, and a robust curriculum has been designed to provide students with the foundational learning necessary for academic and clinical success. Students engage with the medical literature and have protected pre-session learning time, in depth case-based exploration of outpatient issues, and faculty review to identify gaps in knowledge and strengthen understanding. Students attend select lectures from the residents' didactics and have dedicated sessions in narrative medicine, psychiatry, evidence-based medicine, and the social determinants of health. While their short-term learning experience culminates in the shelf exam, the educational opportunities at AIM are intended to spark students' curiosity and help create meaningful understanding that will impact their future practice.
Team-based Approach
Through a variety of exposures to other practitioners and on-site services offered at AIM, students gain understanding of the integrated roles that healthcare providers play in the comprehensive care of patients in the practice. Students witness first-hand the collaboration that extends beyond the walls of the exam room. They participate in a series of targeted patient experiences with physicians, nurse practitioners, social workers, and other multidisciplinary team members that enhances their appreciation for the combined efforts necessary to address patients' complex medical and psychosocial needs. Students learn to work effectively with clinical and non-clinical staff to advance patient care and support a professional working environment.