Jose A. Luchsinger
Location and Contact Information
Division of General Medicine
United States
Open location in Google Maps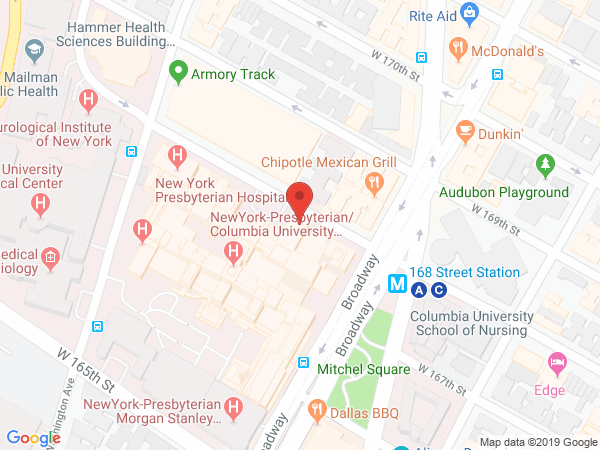 I obtained my MD degree from the Universidad Central de Venezuela in Caracas, completed an internal medicine residency program and a year as Chief Resident at St. Luke's Hospital in New York City, and completed a general medicine research fellowship and a masters in public health (epidemiology) at Columbia University Medical Center. My accomplishments include contributing to the early knowledge base relating diabetes, insulin resistance, and vascular risk factors with Alzheimer's disease, being part of the team that first reported an association between the Mediterranean diet and a lower risk of cognitive disorders, conducting a research program examining the effects of metformin on cognitive impairment, and conducting a research program in research on dementia caregiving including the first trial ever comparing two caregiver interventions.
My group conducts epidemiological, translational, and intervention research in various areas of aging and Alzheimer's Disease and related dementias (ADRD), These areas include research in risk factors and prevention of ADRD and cognitive impairment including observational studies and clinical trials, research in the health of caregivers of persons with ADRD including observational studies and clinical trials, aging and brain outcomes of diabetes and related metabolic conditions including human and animals studies, detection of cognitive impairment in primary care and community settings, and health disparities in aging and ADRD.
Select Publications
Luchsinger JA, Burgio L, Mittelman M, Dunner I, Levine JA, Hoyos C, Tipiani D, Henriquez Y, Kong J, Silver S, Ramirez M, Teresi JA. Comparative Effectiveness of 2 Interventions for Hispanic Caregivers of Persons with Dementia. J Am Geriatr Soc. 2018 Aug 7. doi: 10.1111/jgs.15450. [Epub ahead of print] PubMed PMID: 30084133.

Luchsinger JA, Ma Y, Christophi CA, Florez H, Golden SH, Hazuda H, Crandall J, Venditti E, Watson K, Jeffries S, Manly JJ, Pi-Sunyer FX; Diabetes Prevention Program Research Group. Metformin, Lifestyle Intervention, and Cognition in the Diabetes Prevention Program Outcomes Study. Diabetes Care. 2017 Jul;40(7):958-965. doi: 10.2337/dc16-2376. Epub 2017 May 12. PubMed PMID: 28500216; PubMed Central PMCID: PMC5481986.

Luchsinger JA, Perez T, Chang H, Mehta P, Steffener J, Pradabhan G, Ichise M, Manly J, Devanand DP, Bagiella E. Metformin in Amnestic Mild Cognitive Impairment: Results of a Pilot Randomized Placebo Controlled Clinical Trial. J Alzheimers Dis. 2016;51(2):501-14. doi: 10.3233/JAD-150493. PubMed PMID: 26890736; PubMed Central PMCID: PMC5079271.

Palmas W, Findley SE, Mejia M, Batista M, Teresi J, Kong J, Silver S, Fleck EM, Luchsinger JA, Carrasquillo O. Results of the northern Manhattan diabetes community outreach project: a randomized trial studying a community health worker intervention to improve diabetes care in Hispanic adults. Diabetes Care. 2014 Apr;37(4):963-9. doi: 10.2337/dc13-2142. Epub 2014 Feb 4. PubMed PMID: 24496805; PubMed Central PMCID: PMC3964489.

Scarmeas N, Luchsinger JA, Schupf N, Brickman AM, Cosentino S, Tang MX, Stern Y. Physical activity, diet, and risk of Alzheimer disease. JAMA. 2009 Aug 12;302(6):627-37. doi: 10.1001/jama.2009.1144. PubMed PMID: 19671904; PubMed Central PMCID: PMC2765045.

Biggs ML, Mukamal KJ, Luchsinger JA, Ix JH, Carnethon MR, Newman AB, de Boer IH, Strotmeyer ES, Mozaffarian D, Siscovick DS. Association between adiposity in midlife and older age and risk of diabetes in older adults. JAMA. 2010 Jun 23;303(24):2504-12. doi: 10.1001/jama.2010.843. PubMed PMID: 20571017; PubMed Central PMCID: PMC3047456.

Fitzpatrick AL, Kuller LH, Lopez OL, Diehr P, O'Meara ES, Longstreth WT Jr, Luchsinger JA. Midlife and late-life obesity and the risk of dementia: cardiovascular health study. Arch Neurol. 2009 Mar;66(3):336-42. doi: 10.1001/archneurol.2008.582. PubMed PMID: 19273752; PubMed Central PMCID: PMC3513375.

Scarmeas N, Stern Y, Tang MX, Mayeux R, Luchsinger JA. Mediterranean diet and risk for Alzheimer's disease. Ann Neurol. 2006 Jun;59(6):912-21. PubMed PMID: 16622828; PubMed Central PMCID: PMC3024594.

Luchsinger JA, Reitz C, Honig LS, Tang MX, Shea S, Mayeux R. Aggregation of vascular risk factors and risk of incident Alzheimer disease. Neurology. 2005 Aug 23;65(4):545-51. PubMed PMID: 16116114; PubMed Central PMCID: PMC1619350.

Luchsinger JA, Tang MX, Shea S, Mayeux R. Hyperinsulinemia and risk of Alzheimer disease. Neurology. 2004 Oct 12;63(7):1187-92. PubMed PMID: 15477536.