Elizabeth Oelsner, MD, MPH
Location and Contact Information
The Division of General Medicine
622 W. 168th Street, PH9-105
United States
Open location in Google Maps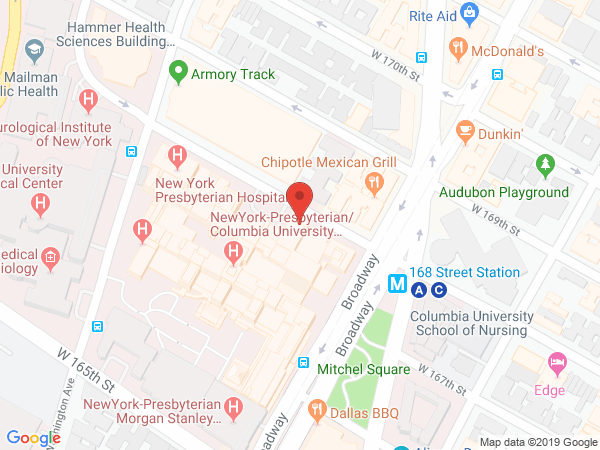 Lizzy Oelsner, MD, MPH, is a general internist and Irving Assistant Professor of Medicine in the Division ofGeneral Medicine. She received her undergraduate degree at Harvard College and completed medical school at Columbia College of Physicians and Surgeons, followed by residency training in Internal Medicine at Columbia University Medical Center. During her subsequent fellowship in General Internal Medicine, she obtained a Masters in Public Health at the Mailman School.
In addition to her clinical and teaching activities, Lizzy conducts epidemiologic and clinical research relevant to the primary and secondary prevention of chronic lung diseases. She leads the NHLBI Pooled Cohorts Study, which is leveraging data from nine NIH-funded cohorts in order to test for indices and determinants of personalized risk for chronic obstructive pulmonary disease (COPD), asthma, and other lung diseases. She also conducts clinical research on COPD and the health effects of e-cigarettes using genomic and functional imaging biomarkers. Her research program is currently funded by the National Heart, Lung and Blood Institute; the National Institute of Environmental Health Sciences Center for Environmental Health in Northern Manhattan; and the Irving Institute.
Lizzy's major areas of research focus currently include:
(1) The NHLBI Pooled Cohorts Study (NIH/NHLBI R21-HL121457, R21-HL129924, K23-HL130627): This large, US general population-based sample was developed by systematically harmonizing and pooling data from nine NIH-funded cohorts. Major respiratory outcomes in the NHLBI Pooled Cohorts Study include lung function as well as clinical respiratory events. This resource is allowing us to test for indices and determinants of personalized risk for chronic lung disease in >65,000 US adults with >400,000 person-years of follow-up, as well as providing the phenotypic data for NHLBI's precision medicine initiative, the Trans-Omics for Precision Medicine (TOPMed) Program.
(2) E-cigarette clinical research: While the value of e-cigarettes for smoking cessation remains hotly debated, there is general consensus that e-cigarette use among adolescents and young adults might pose a new public health threat. Identification of novel indices of early e-cigarette toxicities could help prevent a second wave of tobacco-related product morbidity and mortality. In addition to analyzing e-cigarette users in established cohorts of high-risk smokers (SPIROMICS, COPDGene), we are conducting several clinical research studies to employ microRNA in circulating extracellular vesicles (NIEHS Center Pilot Award) and functional MRI imaging biomarkers (R03-HL132590) as sensitive, specific, and noninvasive measures of potential e-cigarette toxicities.
(3) Radiologic sub-phenotyping of lung diseases: Ongoing research in MESA, MESA-COPD, and SPIROMICS is allowing us to examine structural variation of the lung and its associations with developmental and genetic factors, environmental exposures, and health outcomes.
Learn more about the NHLBI Pooled Cohorts Study.
Select Publications
Valdes A, Andrew T, Gardner JP, Kimura M, Oelsner EC, Aviv A, Spector TD. Obesity, smoking, and telomere length in women. Lancet2005;366:662-4. PMID: 16112303

Oelsner EC, Hoffman EA, Folsom AR, Carr JJ, Enright PL, Kawut SM, Kronmal R, Lederer DJ, Lima J, Lovasi GS, Shea S, Barr RG. Association of percentage of emphysema-like lung on cardiac computed tomography and mortality in persons without airflow obstruction: the Multi-Ethnic Study of Atherosclerosis (MESA) Lung Study. Ann Intern Med 2014; 161:863-73. PMID: 25506855

Oelsner EC, Lima JAC, Kawut SM, Burkart KM, Enright PL, Ahmed FS, Barr RG. Non-invasive tests for the diagnostic evaluation of dyspnea among outpatients: the Multi-Ethnic Study of Atherosclerosis (MESA) Lung Study. Am J Med 2015; 128(2):171-180. PMID: 25447621

Oelsner EC, Carr JJ, Enright PL, Hoffman EA, Folsom AR, Kawut SM, Kronmal RA, Lederer DJ, Lima JAC, Lovasi GS, Smith BM, Shea SJ, Barr RG. Percent emphysema is associated with respiratory and lung cancer mortality in the general population: a cohort study. Thorax. 2016; 71(7)624-32. PMID: 27048196

Oelsner EC, Smith BM, Hoffman EA, Folsom AR, Kawut SM, Kaufman JD, Manichaikul A, Lederer DJ, Schwartz JE, Watson KE, Enright PL, Austin JHM, Lima JAC, Shea SJ, Barr RG. Associations between emphysema-like lung on CT and incident airflow limitation: a general population-based cohort study. Thorax. 2018;73(5):486-488. PMID: 29074811

Oelsner EC, Loehr LR, Henderson AG, Donohue KM, Enright PL, Kalhan R, Lo Cascio CM, Ries A, Shah N, Smith BM, Rosamond W, Barr RG. Classifying chronic lower respiratory disease events in epidemiologic cohort studies. Ann Amer Thorac Soc. 2016;13(7):1057-66. PMID: 27088163

Oelsner EC, Smith BM, Hoffman EA, Kalhan R, Donohue KM, Kaufman JD, Nguyen JN, Manichaikul AW, Rotter JI, Michos ED, Jacobs DR Jr, Burke GL, Folsom AR, Schwartz JE, Watson K, Barr RG. Prognostic Significance of Large Airway Dimensions on Computed Tomography in the General Population. The Multi-Ethnic Study of Atherosclerosis (MESA) Lung Study. Ann Am Thorac Soc. 2018; 15(6):718-727. PMID: 29529382

Oelsner EC, Balte PP, Cassano P, Couper D, Enright P, Folsom AR, Hankinson J, Jacobs DR, Kalhan R, Kaplan R, Kronmal R, Lange L, Loehr L, London SJ, Navas Acien A, Newman AB, O'Connor GT, Schwartz JE, Smith LJ, White W, Yeh F, Yende S, Barr RG. Harmonization of Respiratory Data from Nine US Population-Based Cohorts: the NHLBI Pooled Cohorts Study. Am J Epidemiol. 2018. PMID: 29982273