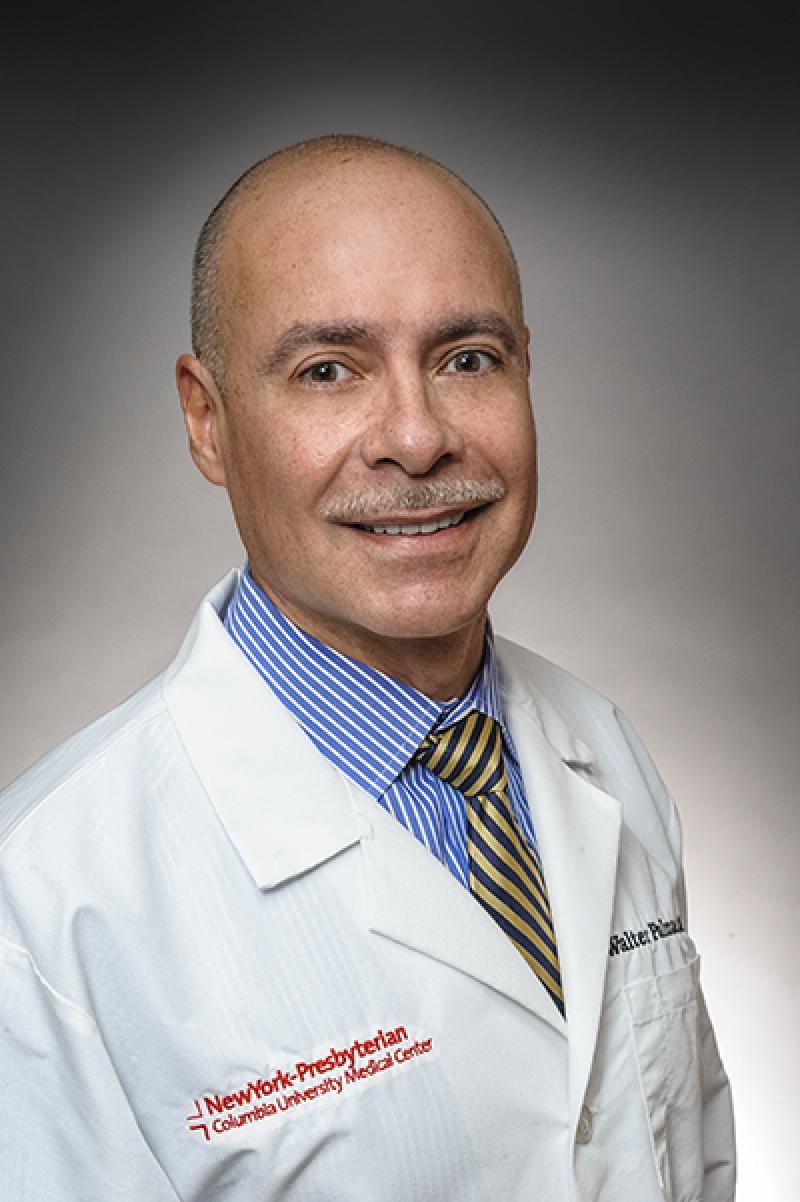 Overview
Dr. Palmas graduated magna cum laude from the University of Buenos Aires' School of Medicine. He completed cardiology training in Buenos Aires, a nuclear cardiology fellowship at Cedars-Sinai Medical Center/UCLA, and internal medicine residency at St. Luke's-Roosevelt Medical Center. He has a masters degree in biostatistics from Columbia University. Honors include the Rotary Foundation Post-Doctoral Scholarship, and the Ewig Clinical Scholarship. He teaches the medicine residency Evidence Based Medicine seminar. His research ranges from epidemiology and genetics to randomized trials. Currently, he is principal investigator of the Northern Manhattan Diabetes Community Outreach Project, which studies the efficacy of a Community Health Worker intervention to improve diabetes care in Hispanic adults. He leads the MESA SHARE blood pressure working group and the Genomics in Hispanics for Blood Pressure consortium, participating in global efforts to identify genetic causes of hypertension.
Academic Appointments
Associate Professor of Medicine at CUMC
Administrative Titles
Chair, Institutional Review Board (IRB)-5
Director, Evidence Based Medicine Seminar, Columbia Vagelos College of Physicians and Surgeons
Director, Evidence Based Medicine Course for Residents, Department of Medicine
Hospital Affiliations
NewYork-Presbyterian / Columbia University Irving Medical Center
Schedule an Appointment
Connect Patient Portal
For existing patients, login to make an appointment, view documentation or contact your care provider.
Location(s)
622 West 168th Street
205
Insurance Accepted
Aetna
Aetna Signature Administrators
EPO
HMO
Medicare Managed Care
NYP Employee Plan
NY Signature
POS
PPO
Student Health
AgeWell
Medicare Managed Care
Special Needs
Cigna
EPO
Great West (National)
HMO
POS
PPO
Empire Blue Cross/Blue Shield
EPO
HMO
Medicare Managed Care
PPO
MVP Health Care
Child/Family Health Plus
Essential Plan
HMO
Medicaid Managed Care
Oxford Health Plans
Freedom
Freedom PPO
Liberty
POS
UnitedHealthcare
Columbia University Employee Plan
Compass (Exchange)
HMO
Medicaid (Community Plan)
Medicare Managed Care
POS
PPO
*Please contact the provider's office directly to verify that your particular insurance is accepted.
Credentials & Experience
Education & Training
University of Buenos Aires Faculty of Medicine (Argentina)
Internship: St. Luke's-Roosevelt Hospital Center
Residency: St. Luke's-Roosevelt Hospital Center
Fellowship: Cedars Sinai Medical Center
Honors & Awards
Rotary Foundation Scholar.
Ewig Clinical Scholar, Columbia University.
Research
Research Interests
Behavioral interventions in chronic disease management
Genetics of cardiovascular diseases and hypertension
Identification and causes of subclinical atherosclerosis
Prevention of cardiovascular diseases
Selected Publications
The genetics of blood pressure regulation and its target organs from association studies in 342,415 individuals. Nat Genet. 2016 Oct;48(10):1171-84. doi: 10.1038/ng.3667. Epub 2016 Sep 12. PubMed PMID: 27618452; PubMed Central PMCID: PMC5042863.
Meta-analysis identifies common and rare variants influencing blood pressure and overlapping with metabolic trait loci. Nat Genet. 2016 Oct;48(10):1162-70. doi:10.1038/ng.3660. Epub 2016 Sep 12. PubMed PMID: 27618448.
An Empirical Comparison of Joint and Stratified Frameworks for Studying G × E Interactions: Systolic Blood Pressure and Smoking in the CHARGE Gene-Lifestyle Interactions Working Group. Genet Epidemiol. 2016 Jul;40(5):404-15. doi: 10.1002/gepi.21978. Epub 2016 May 27. PubMed PMID: 27230302; PubMed Central PMCID: PMC4911246.
Genetic loci associated with ideal cardiovascular health: A meta-analysis of genome-wide association studies. Am Heart J. 2016 May;175:112-20. doi: 10.1016/j.ahj.2015.12.022. Epub 2016 Jan 23. PubMed PMID: 27179730; PubMed Central PMCID: PMC4873714.
Rare Exome Sequence Variants in CLCN6 Reduce Blood Pressure Levels and Hypertension Risk. Circ Cardiovasc Genet. 2016 Feb;9(1):64-70. doi: 10.1161/CIRCGENETICS.115.001215. Epub 2015 Dec 11. PubMed PMID: 26658788; PubMed Central PMCID: PMC4771070.
Directional dominance on stature and cognition in diverse human populations. Nature. 2015 Jul23;523(7561):459-62. doi: 10.1038/nature14618. Epub 2015 Jul 1. PubMed PMID: 26131930; PubMed Central PMCID: PMC4516141.
Community Health Worker Interventions to Improve Glycemic Control in People with Diabetes: A Systematic Review and Meta-Analysis. J Gen Intern Med. 2015 Jul;30(7):1004-12. doi: 10.1007/s11606-015-3247-0. Epub 2015 Mar 4. Review. PubMed PMID: 25735938; PubMed Central PMCID: PMC4471021.
Gene-age interactions in blood pressure regulation: a large-scale investigation with the CHARGE, Global BPgen, and ICBP Consortia. Am J Hum Genet. 2014 Jul 3;95(1):24-38. doi:10.1016/j.ajhg.2014.05.010. Epub 2014 Jun 19. PubMed PMID: 24954895; PubMed Central PMCID: PMC4085636.
Gene-centric meta-analysis in 87,736 individuals of European ancestry identifies multiple blood-pressure-related loci. Am J Hum Genet. 2014 Mar 6;94(3):349-60. doi: 10.1016/j.ajhg.2013.12.016. Epub 2014 Feb 20. PubMed PMID: 24560520; PubMed Central PMCID: PMC3951943.
Results of the northern Manhattan diabetes community outreach project: a randomized trial studying a community health worker intervention to improve diabetes care in Hispanic adults. Diabetes Care. 2014 Apr;37(4):963-9. doi: 10.2337/dc13-2142. Epub 2014 Feb 4. PubMed PMID: 24496805; PubMed Central PMCID: PMC3964489.
Genome-wide association analysis of blood-pressure traits in African-ancestry individuals reveals common associated genes in African and non-African populations. Am J Hum Genet. 2013 Sep 5;93(3):545-54. doi: 10.1016/j.ajhg.2013.07.010. Epub 2013 Aug 22. PubMed PMID:23972371; PubMed Central PMCID: PMC3769920.