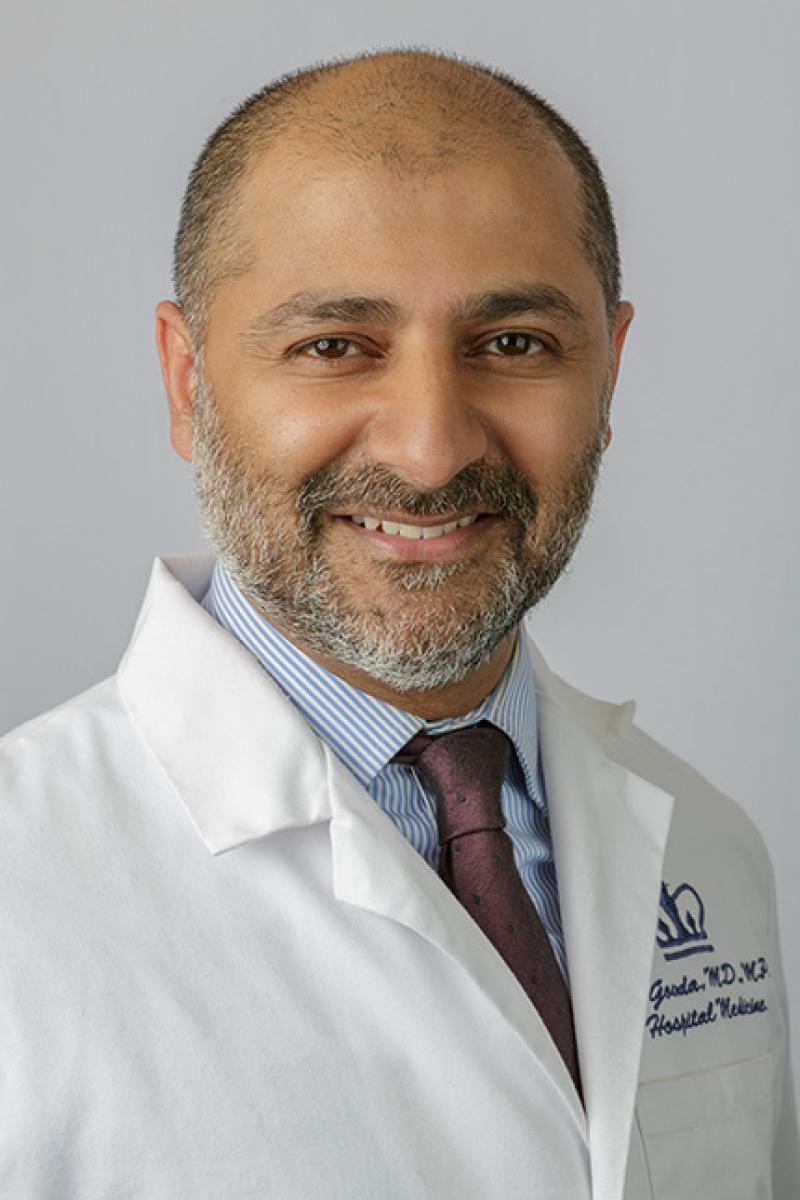 Overview
Areas of Expertise / Conditions Treated
Academic Appointments
Associate in Medicine at CUMC
Administrative Titles
Course Director, Foundations of Clinical Medicine Tutorials
Chair, Fundamentals (Pre-clerkship Curriculum) Curriculum Committee
Director, Scholarly Project Track in Medical Education
Director of Clinical Practice, Program in Narrative Medicine
Deepthiman Gowda is a general internist and works in the Section of Hospital Medicine. He is the Course Director of Foundations of Clinical Medicine Tutorials, Chair of the Fundamentals Curriculum Committee (first 18 months of the medical school curriculum), and Director of the Scholarly Project Track in Medical Education at the Columbia University Vagelos College of Physicians and Surgeons. He is the Director of Clinical Practice in the Program in Narrative Medicine. At the medical school, Dr. Gowda serves on the Admissions Committee and has served as Chair of the Task Force for a Bias-Free Curriculum and the first campus-wide Task-Force for Interprofessional Education. Dr. Gowda is a Macy Foundation Faculty Scholar (2015-2017). 
Dr. Gowda has received the Bohmfalk Award for preclinical education, the Ewig Award for clinical teaching, and the Ambulatory Medicine Teacher of the Year Award. He is a member of the Virginia Apgar Teaching Academy and chairs the Apgar Medical Education Scholarship Group (AMES). He serves as a member of the New York City Board of Health and as the National Co-Chair for the USMLE Step 2 Clinical Skills Test Development Committee. His scholarship has focused on narrative medicine, clinical skills training, and interprofessional education and practice.
Hospital Affiliations
NewYork-Presbyterian/Columbia
Location(s)
CUMC/Milstein Hospital Building
177 Fort Washington Avenue
Credentials & Experience
Education & Training
University of North Carolina at Chapel Hill School of Medicine
Residency: NewYork-Presbyterian Hospital/Columbia University Medical Center
Honors & Awards
Bohmfalk Award for preclinical education
Ewig Award for clinical teaching
Ambulatory Medicine Teacher of the Year Award
Virginia Apgar Teaching Academy
Research
Research Interests
Medical Education (including clinical skills and interprofessional education) and Narrative Medicine
Selected Publications
Articles
Gowda D, Dubroff R, Swan-Sein A., Capello C. Art as Sanctuary: A Four-Year Mixed-Methods Evaluation of a Visual Art Course Addressing Uncertainty Through Reflection. Accepted to Academic Medicine, 2019
Uchida T, Gowda D, et al. Approaches to Teaching the Physical Exam to Pre-Clerkship Medical Students: Results of a National Survey Accepted to Academic Medicine, 2019
Cao, E., & Gowda, D. Collaborative songwriting for health sciences interprofessional service learning. Medical education, 52(5), 550-550, 2018
Gowda, D. Listen in Silence: Narrative Medicine with Interprofessional Teams. Collaborative Healthcare – Interprofessional Practice, Education, and Evaluation, 2017, 4-5
Tucker M, Balmer D, Gowda D. Impact of Explicit, Implicit, and Extra Curricula on Students' Learning of the History and Physical Examination MedEdPublish, 2017 6, [3], 22 doi:https://doi.org/10.15694/mep.2017.000136
Uchida, T., Achike, F. I., Blood, A. D., Boyle, M., Farnan, J. M., Gowda, D., ... & Silvestri, R. (2018). Resources Used to Teach the Physical Exam to Preclerkship Medical Students: Results of a National Survey. Academic Medicine, 93(5), 736-741.
Gowda, D., Blatt, B., Fink, M. J., Kosowicz, L. Y., Baecker, A., & Silvestri, R. C. (2014). A core physical exam for medical students: results of a national survey. Academic Medicine, 89(3), 436-442.
Chapters
Gowda D, Curran T, Balmer D. Using a Mixed Methods Approach to Evaluating Programs in Health Humanities. In Research Methods in Health Humanities Eds. Klugman C and Lamb E. New York, NY: Oxford Univ Press, publication planned for late 2018
Gowda D. Taking Time to Truly Listen to our Patients. In Distracted Doctoring: Returning to Patient-Centered Care in the Digital Age. Ed. P Papadakos and S Bertman. New York, NY: Springer, 2017